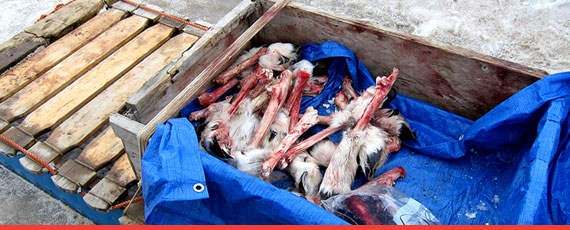 We will promote country food as a foundational food for Nunavummiut.

Country food is a basic food for Nunavummiut. It is important because it:
Gives excellent nutrition.
Plays a critical role in Inuit culture.
Contributes to strong, sustainable, self-reliant communities.

There is concern that Nunavummiut eat less country food today than in the past. Many factors affect access to country food:
Loss of traditional knowledge.
High cost of harvesting equipment.
Rapid population growth.
Poverty that limits people's ability to pursue traditional activities.
Changing food preferences.
Changing climate conditions that restrict access to harvesting areas and impact wildlife.
Scarcity of wildlife due to population fluctuations.

A secure food system in Nunavut depends on access to country food.
Objectives:

1.1
Support harvesters so they can pursue traditional livelihoods.
1.2
Help ensure that Nunavummiut who are most vulnerable to food insecurity are able to access country food.
1.3
Promote the continuation of informal country food sharing networks.
1.4
Explore sustainable commercialization of country food.
1.5
Improve community-based infrastructure that provides harvesters with places to store, prepare, share and, as appropriate, sell their harvests.
1.6
Seek a balance between the needs of Nunavummiut and the principles of wildlife conservation.
1.7

Encourage consumption of a wider variety of country food.